The section below lists the courses we have.
Click on the course you are interested in then watch free previews.
Make sure our teaching style fits your needs.

All courses list what is inside along with preview videos of training topics.
We always update our courses along with planning to add more, you're at the right place to learn.
Each will have a preview video to show the PLC training in that course.

Please note to use your correct email when signing up because each course has an access area that will be emailed to you, we do not by any means use your email for anything other than course access so complete privacy is our protection.
Don't be the guy that gets left out because they didn't use the correct email, your email is only used for you to sign in & nothing more.
PLC Training & Automation Courses
FAQ

Do you get the software to practice with?
Yes, we provide several options that allow you to use the software to practice & follow along with.


When does the course start and finish?
The course starts now and ends when you have learned enough to excel in your career.
It is a completely self-paced online course - you decide when you start and when you finish.
All of our courses are designed to show great detail along with lessons learned through the years of programming that just aren't talked about anywhere else. Whether you have experience in the programming field or you are just a beginner, the way the lessons are taught shows proven techniques that have helped grow some of the biggest names and brands in the world.
We strive to go above and beyond on helping others learn PLC controls, HMI controls, Servo controls, and full system automation.

I wish that there was a place like this to learn from when we first started, in fact, there are even days now that I go back & look at what we do as a benchmark for new projects that we do.


How long do I have access to the course?
How does lifetime access sound?
After enrolling, you have unlimited access to this course for as long as you like - across any and all devices you own.

Why is our training platform?

Deep technical knowledge share

Better video quality for improved learning

Course format & layout

No review request so no hassles

No spam emails

Better training material
But above & beyond all else, Overall 10 times better quality!

As the person that built this training environment, I believe that every day is an opportunity to learn & better ourselves. No matter what level you are in your career, I learn every day & make it a point to better myself. Living every day to be a better version of myself tomorrow than I am today.


I am sure you will love the information you learn here.
I would like to thank you for visiting us here about your interest in PLC training along with HMI training, we take pride in what we do so trust that this is the best online training you can get & at such a reasonable price.
We put value in the education & knowledge that we share which shows by being voted the #1 PLC training center 4 years in a row...
Thank You for that,

Shane
A little About Us...
In an effort to share knowledge in manufacturing automation, I have created a deep resource center that is well-structured to help everyone learn PLC & HMI controls. Our core teaching is in Rockwell Automation & was started years ago as my own knowledgebase center.
Through the years of making YouTube videos about manufacturing automation, I have been asked to create a structured training center & this is what I am proud to say is a great resource for those well to learn.
Teaching:
Ladder Logic

Structured Text

Function Block

Sequential Function Chart

FactoryTalk View Studio

And adding more as technology grows
We often search the internet to find solutions to our problems, I know because I have been there & I still use this technique but in the growing world we live in, the internet is a leading environment that has been a great resource to share knowledge & help us all grow.
Built to improve the knowledge pass in an easy way, I worked all of my time off creating this platform & am always adding new training topics to help.
What do our past students think of our courses?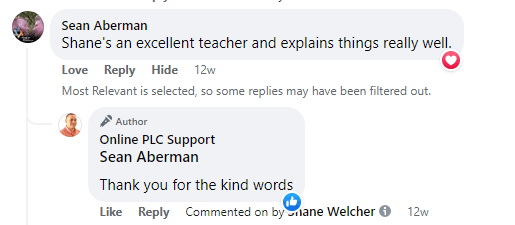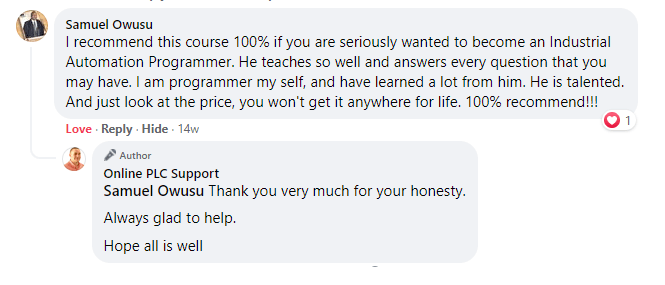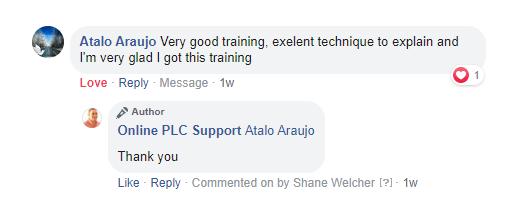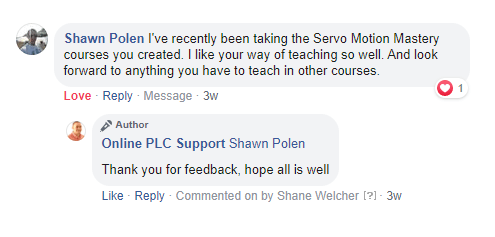 From the start of my career I knew that programming PLC controls were something that is our now & is our future. Being able to make something happen from just a single idea is greatly empowering.
Why?
Having the ability to troubleshoot for a creative solution

Coming up with the program from scratch to make equipment run better

Staying up to date with the latest operating systems

Being fulfilled at the end of the day
See the good side to PLC automation these days is the amount of information on the Internet that can help you learn along with solving problems quickly.
Why PLC controls?
Lifelong Careers

High Paying

Great benefits
With the amount of knowledge online about PLC programming, you can easily get your foot in the door of a major manufacturer.
Welcome & I hope to see you visit us as much as possible to learn and grow and the PLC automation field.
Every day is an opportunity.
Learn, Implement, Succeed!